Speak Hebrew in just 1 week,
with our unique proven method!
For New Immigrants, Tourists, Business People & Diplomats
Backed by almost two decades of experience, Ulpan-Or's proven RLA™ - Rapid Language Acquisition method enables everyone to speak and understand Hebrew – even if you never learned a word of the language before.
Through a super-fun mix of in-class study and real-world immersion, our tailor-made One-On-One programs take the grind out of learning Hebrew – achieving in just one week what often takes months. And if you can't be in Israel, join our 1-on-1 online course today.
Please provide your details below
and one of our education
consultants will contact you shortly
Our specially trained teachers will guide you step by step towards
success!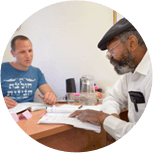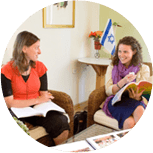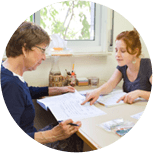 "When I came to Ulpan Or, my Hebrew skills were almost non-existent. The Ulpan Or program is more than just a one-on-one learning experience – the structure of the entire program ensures success."

"Ulpan-Or is a truly amazing place. I came not speaking a word of Hebrew and now I speak with confidence. Immersion in Israel's culture is definitely the best way to learn Hebrew."
Total Immersion – Total Success
A typical day starts on our campus in Tel Aviv or Jerusalem, immersing yourself in specially chosen materials like popular Israeli music and TV shows, using latest teaching technologies.
Then spend time out in the 'field', interacting with the locals at the coffee shops, markets and other hot-spots, listening to the natives and practicing what you've learned.
Based on years of research into the way children naturally learn to speak, augmented by technological innovations and interactive materials our highly effective Personal Language Instruction system will guide you at your own pace into the wonders of conversational Hebrew.
Ulpan-Or - learn Hebrew
at the speed of light
Individually tailored courses start every week

Backed by years of research

Complimentary easy-to-use downloadable materials
Suitable for all levels and ages

Books, CDs, audio materials and city travel all included

Free subscription to the interactive E-Tone™ newspaper