Page 6 - E-Tone (05-10-22) High_level
P. 6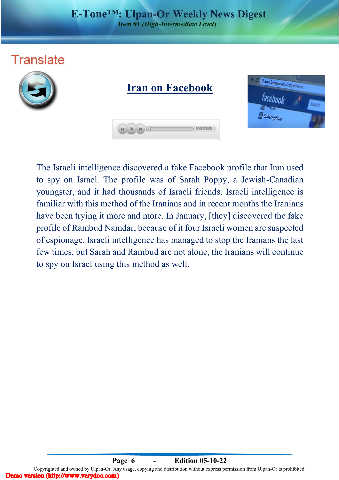 E-Tone™: Ulpan-Or Weekly News Digest

                                      Item #1 (Low-Intermediate Level)

               Children Without a Smartphone

Na'ama's son will attend the third grade, and many kids in his classroom
already has a smartphone. Na'ama doesn't like this, so she talks to the
parents, and together they buy "stupid" phones for the whole class. Phones
with no internet, that (you) can only call and send texts. Sigal too, who has
daughters who will attend the second and third grades, opens a Facebook
group and along with the parents at the school buys cheap "stupid" phones
for the kids like Na'ama. And the kids? (They're) happy, but think that
their parents are on the phone all day long…

                                  Page 6 - Edition 08-07-18

Copyrighted and owned by Ulpan-Or. Any usage, copying and distribution without express permission from Ulpan-Or is prohibited.