Print This Post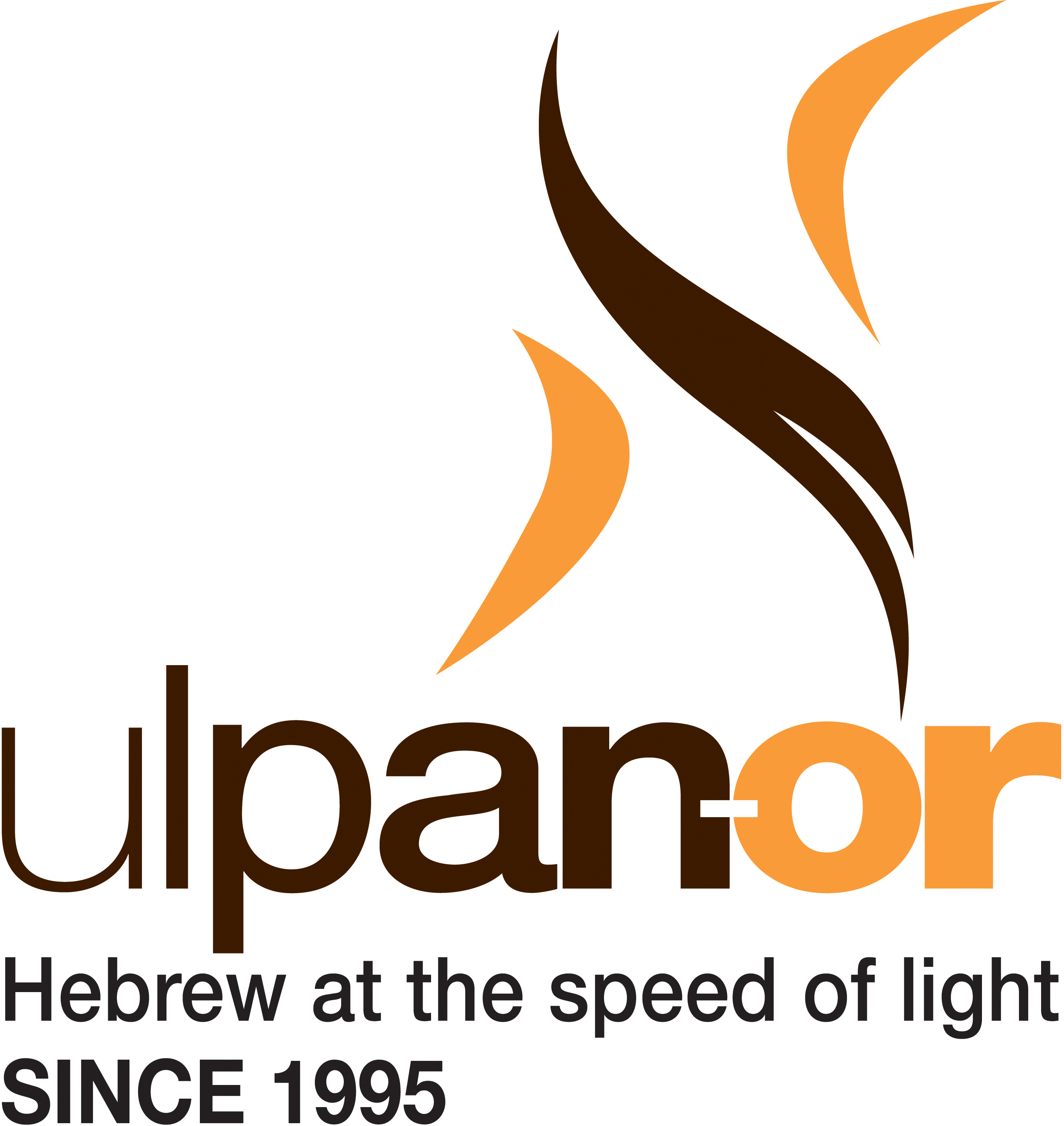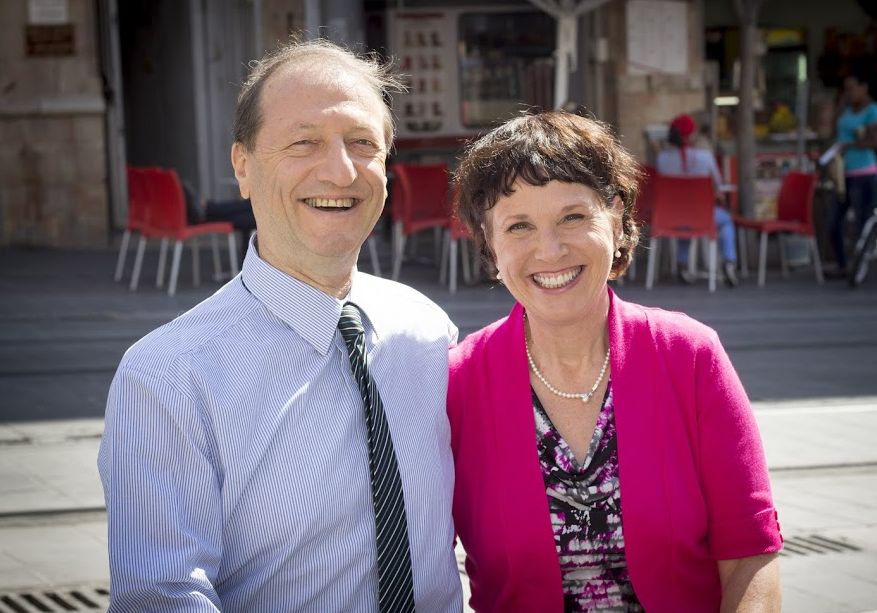 ​
The Torah "Art of War"

Shalom,
Orly and I, as well as some of our talented teachers participated this week in the Global Jewish Education conference in Jerusalem, where ~150 Heads of Schools, Principals and other Jewish leaders from 30 countries gathered to discuss the future needs of the Jewish education.
Hebrew was one of the topics brought up as a unifying factor.
We were excited to meet heads of schools, principals and Hebrew teachers from schools which are already successfully using our interactive iHebrewTM curriculum.
We were also introduced to new schools showing interest in using our curriculum designed for different levels and grades for use in schools and universities starting fom the fourth grade.
Our iHebrewTM curriculum is currently being used by~90 schools around the world.
If you know of any institution that might be interested to try out our curriculum, please let us know and we will be more than happy to provide any information and support needed.
This Shabbat we will read from the Torah portion 'Matot'.
In this Torah portion, G-d commands Moses to fight the Midianites before his death and to avenge the vengeance of the Children of Israel.
נְקֹם, נִקְמַת בְּנֵי יִשְׂרָאֵל, מֵאֵת, הַמִּדְיָנִים; אַחַר, תֵּאָסֵף אֶל-עַמֶּיךָ
"Avenge the vengeance of the Children of Israel from the Midianites; afterward you shall be gathered to your people." (Num. 31:2)
There is a question here:
Why is it so important that Moses must fight against the Midianites before his death?
Explains Rabbi Meir Simcha of Dvinsk:
If Moses would not have fought the Midianites, like he fought against all the other enemies, the Children of Israel would have suspected that this is because of personal reasons.
What would be those personal reasons?
We know that Moses has lived in Midian for many years hosted by the High Priest of Midian, Yitro, and Moses married Yitro's daughter, Tziporah.
The above facts, of course, might have caused Moses to consider not to fight the Midianites.
Therefore, G-d commands Moses to make vengeance on the Midianites before his death, and thus stop all the suspicions against him.
But, let us see the difference between G-d's guideline to Moses and how Moses conveys those to the people of Israel.
When Moses calls to the Children of Israel to fight with Midian, he slightly deviates from what G-d has told him. He tells them to avenge "the vengeance of G-d" and not "the vengeance of the Children of Israel," like G-d said to him.
וַיְדַבֵּר מֹשֶׁה אֶל-הָעָם לֵאמֹר
הֵחָלְצוּ מֵאִתְּכֶם אֲנָשִׁים לַצָּבָא; וְיִהְיוּ, עַל-מִדְיָן, לָתֵת נִקְמַת-יְהוָה, בְּמִדְיָן
"Moses spoke to the nation, saying: 'Arm from among you men for the army, that they will go against Midian, to execute the vengeance of God on Midian." (Num, 31:3)
Torah commentator Rashi explains that Moses phrased it that way to the Children of Israel in order to proclaim that someone who stands against Israel is as if he stands against
G-d.
Now the Torah tells us how this vengeance has been executed.
Moses is told to gather people from all the tribes:
אֶלֶף, לַמַּטֶּה, אֶלֶף, לַמַּטֶּה לְכֹל מַטּוֹת יִשְׂרָאֵל, תִּשְׁלְחוּ לַצָּבָא
וַיִּמָּסְרוּ מֵאַלְפֵי יִשְׂרָאֵל, אֶלֶף לַמַּטֶּה שְׁנֵים-עָשָׂר אֶלֶף, חֲלוּצֵי צָבָא
Of every tribe a thousand, throughout all the tribes of Israel, shall ye send to the war.
So there were delivered, out of the thousands of Israel, a thousand of every tribe, twelve thousand armed for war. (Num, 31:4-5)
So, by gathering one thousand people from each tribe, altogether a total twelve thousand people have been gathered by Moses.
Although there were 13 tribes (since out of twelve Jacob's children, Joseph's children Ephraim and Menashe actually made two tribes) the tribe of Levy did not send their people to the war. They were serving in the Tabernacle.
So, these 12,000 people went to war and fought many hundreds of thousands, if not millions of the enemy soldiers. They victoriously returned home with no casualties!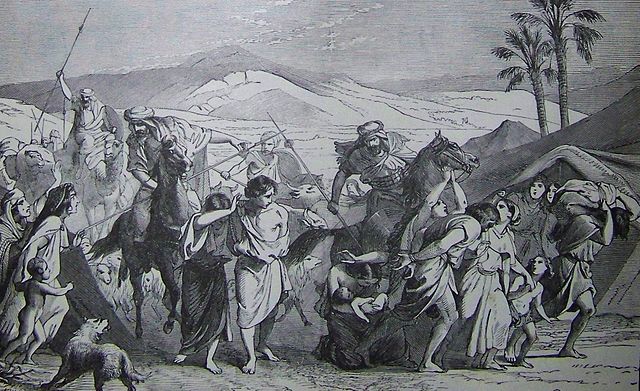 THE ART OF WAR
"The Art of War" is an ancient Chinese military treatise dating from the 6th century BC.
The work, is attributed to the famous Chinese military strategist Sun Tzu.
"The Art of War" remains the most influential strategy text in East Asian warfare. It has a profound influence on both Eastern and Western military thinking, business tactics, legal strategy and beyond.
It is based on several principles such as:
Planning

Character

Using Advantages

Alliances

Deception

The Use of Spies

Strength & Weaknesses

Energy

Communication

Winning Whole
To be able to win, one must learn, master and properly utilize the principles of the strategy.
But, maybe the Torah gives us a different path to follow in order to win…
The Torah "Art of War"
The Midrash mentions that actually three thousand people from each tribe have been gathered to conduct the war activities.
They were divided into three categories.
One thousand man in the category of the "War front combat soldiers". They physically went to fight.

One thousand man in the category of "Home front protection force". They stayed close to home to protect the people of Israel from an unexpected enemy attack.

One thousand man in the category of "Praying force". Their role was to provide spiritual protection.
Apparently the Midrash gives us a three-layer recipe, which provides means to fight wars the "Torah way" – winning the war with minimal force and having no casualties.
And now a little bit of Hebrew:
​Tribe/Rod/Staff/Headquarters – מטה

–

'MATEH'

Party headquarters – מטה המפלגה

–

'MATEH HAMIFLAGAH'



General staff – מטכ"ל

–

'

MATKAL

'




(It's an acronym derived from –

מט

ה

כל

לי

)

Chief of Staff – רמטכ"ל

–

'

RA

MATKAL

'




(It's an acronym derived from –

ר

אש

ה

מט

ה ה

כל

לי

)



"General Staff " elite forces –

סיירת

מטכ"ל

–

'

SAYERET MATKAL

'
"Golani" elite forces –

סיירת

גולני

–

'

SAYERET GOLANI

'

Listen now to a nice song about the "Golani" elite forces
https://www.youtube.com/watch?v=lSK3sAk4IY4
​
Many people ask us for a permission to redistribute our newsletters – by all means, please do feel free to forward this newsletter to anyone you wish!
Shabbat Shalom
Yoel & Orly
Our archive of posts and newsletters may be found at:
https://www.ulpanor.com/category/newletter/