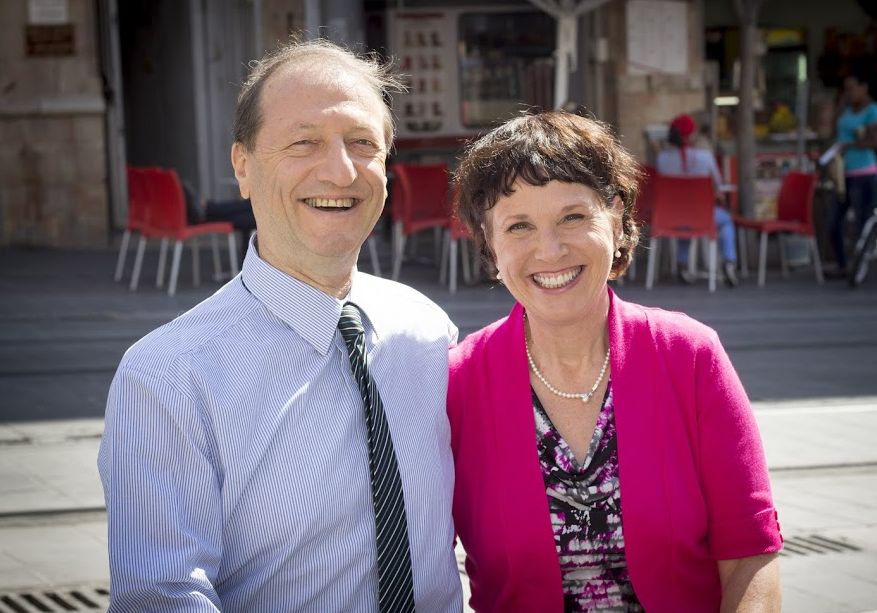 Shalom,
This Shabbat we will read the fifth Torah Portion in the book of Genesis – "Khayey Sarah" – The Life of Sarah.
In this portion the Torah tells us about Avraham's wife Sarah, who dies at age 127.
Sarah, the wife of Abraham, was the first mother of our people. In Hebrew we refer to her as –שרה אמנו 'Sarah Imeinu', Sarah our Mother, our Matriarch.
The name of this Torah portion "Khayey Sarah", which can be translated as "The Lifetime of Sarah," is a perplexing title.
Contrary to our expectations, this Torah portion does not tell the story of Sarah's life.
Instead, it opens with an announcement of her death:
And the life of Sarah was a hundred years and seven years and twenty years; these were the years of the life of Sarah.
וַיִּהְיוּ חַיֵּי שָׂרָה, מֵאָה שָׁנָה וְעֶשְׂרִים שָׁנָה וְשֶׁבַע שָׁנִים–שְׁנֵי, חַיֵּי שָׂרָה
And Sarah died in Kiriat Arba–the same is Hebron–in the land of Canaan; and Abraham came to mourn for Sarah, and to weep for her. (Gen. 23:1,2)
וַתָּמָת שָׂרָה, בְּקִרְיַת אַרְבַּע הִוא חֶבְרוֹן–בְּאֶרֶץ כְּנָעַן; וַיָּבֹא, אַבְרָהָם, לִסְפֹּד לְשָׂרָה, וְלִבְכֹּתָהּ
One way to understand why the title of this Torah portion emphasizes Sarah's life and not her death is to relate to what the Talmud teaches – "the righteous are called living even after death".
Avraham makes a big effort to meet with the owner of Cave of Makhpela, Ephron to discuss the terms for purchasing it from him in order to bury Sarah there.
Initially, out of big respect for Avraham, Ephron offered him the cave and the surrounding area as a gift. But Avraham insisted to purchase it for a full price.
Thus, in the presence of all the people of Heth, Abraham formally purchased the Cave of Makhpela from Ephron paying 400 Shekels (in Big Coins – meaning, International currency).
We would like to raise the following questions about this episode.
Why did Avraham specifically choose the cave of Makhpela to burry Sarah there?
What does the name: Cave of Makhpela – מערת המכפלה mean?
What does the name of the place Kiryat Arba – Hebron mean?
The answer may be found in the Midrash (Pirkey Eliezer) related to the previous Torah portion 'Va'Yerah'.
In that portion Avraham invites three guests (angels) to his tent and he and Sarah hurry to prepare a big meal for them.
וַיְמַהֵר אַבְרָהָם הָאֹהֱלָה, אֶל-שָׂרָה; וַיֹּאמֶר, מַהֲרִי שְׁלֹשׁ סְאִים קֶמַח סֹלֶת–לוּשִׁי, וַעֲשִׂי עֻגוֹת
And Abraham hastened into the tent unto Sarah, and said: 'Make ready quickly three measures of fine meal, knead it, and make cakes.
וְאֶל-הַבָּקָר, רָץ אַבְרָהָם; וַיִּקַּח בֶּן-בָּקָר רַךְ וָטוֹב, וַיִּתֵּן אֶל-הַנַּעַר, וַיְמַהֵר, לַעֲשׂוֹת אֹתוֹ
And Abraham ran unto the herd, and fetched a calf tender and good, and gave it unto the servant; and he hastened to dress it.
The Midrash questions:
Why did Avraham had to run to fetch a tender calf?
And it tells us that the calf tried to run away from Avraham and entered a cave, in which Avraham eventually was able to catch it.
In that cave Avraham smelled a unique fragrance and he found there Adam and Eve and candles lit next to them.
He then made a decision that this cave should be also serving as a burial place for him and his wife Sarah.
Another Midrash tells us that after Adam and Eve were expelled from the Garden of Eve, Adam passed by a certain place and saw a unique light coming out from the earth.
He started digging there, but was stopped by G-d telling him to stop, because it was the gate to the Garden of Eden…
And, so Adam stopped digging, but was able to make a cave in which eventually he and Eve were buried.
This place was Hebron – חברון
The word חברון has the root חבר, which means 'connect'
It was called so, because Adam understood that this was a place that connected Earth to Heaven.
According to the Kabbala, every person's soul, after his death, leaves for heaven passing through that cave in Hebron.
After his death Abraham was also buried along with Sarah in the Cave of Makhpela.
Tradition tells us that in the Cave of Makhpela (Cave of Patriarchs) are buried four couples:

1. Adam and Hava (Eve)
2. Abraham and Sarah
3. Yitzhak (Isaac) and Rivka
4. Yaakov (Jacob) and Leah
The name Kiriat Arba – קריית ארבע (The residence of four) reflects the fact that in that place are buried four couples.
And now to the word מכפלה – MAKHPELAH
Is has the root כפל KAFAL, which means double.
So, מערת המכפלה – Cave of Makhpelah means 'a double cave'.
Commentators tell us about the following possibilities for the meaning of the name 'Double cave'
1. There are physically two caves in one location.

2. There couples buried there, thus 'double' – relating to the couples of people.

3. The cave connects Earth to Heaven, thus 'double' – relating to both: Earth and Heaven.
Watch a short video about the Makhpela cave below:
https://www.youtube.com/watch?v=H9qoIl6xO9A
And now a little bit of Hebrew:
Let's take a look at the Hebrew root כפל representing the concept of doubling, or multiplying.
Double – כפול

–

'KAFUL'

Multiplication table – לוח הכפל

–

'LUAKH HAKEFEL'

Stuntman / a double

–

כפיל 'KAFEEL'

Hem – מכפלת

–

'MIKHPELET'
A lot of times in Israel one may see signs:
אין כל מבצעים
'EIN KEFEL MIVTZAYIM'

It actually means – 'There are no double discounts'
Shabbat Shalom,
Yoel & Orly
Many ask us for a permission to redistribute our newsletters. By all means, please do feel free to forward this newsletter to anyone you wish!
Access the archive of our previous posts at:
Subscribe to our newsletters on our website at the bottom of the home page:
https://www.ulpanor.com/category/blog/