Reviving Connection of Body & Soul
Reviving Connection
of Body & Soul

This Shabbat we will read the Torah Portion VaYetze in the book of Genesis.
In this Torah portion, on his way to find a bride for himself, Jacob has a dream in which angels go up and down a ladder connecting earth to heaven.
God appears before Jacob and renews the covenant that God had made with Abraham.
Then, when he gets to Haran, Jacob meets Rachel, Laban's daughter, tending sheep and wishes to marry her. Laban tricks Jacob into marrying his eldest daughter, Leah, after seven years of labor.
In exchange for another seven years of work, Jacob is allowed to marry Rachel.
Jacob has many sons with Leah, but Rachel is unable to conceive. Finally, God blesses Rachel, and she has a son, whom she names Joseph.
Let's relate now to Jacob's dream.
(The famous Jacob's Ladder – SULAM YA'AKOV – סולם יעקב)
In his dream Yaakov sees angels ascending and descending on it and he realizes that it was a holy place and calls it BETH EL – House of G-d – בית אל.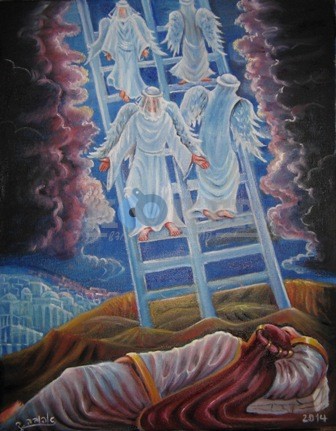 Interpretation of Jacob's Dream
The ladder that Jacob saw in his dream was viewed by the Jewish sages as a symbol that represents and links different worlds – earth and heaven.
One way our sages interpreted the symbol of the ladder in Jacob's dream is the mount of Sinai: "And he dreamed and behold a ladder — this is Sinai".
Stationed on earth — as it says (Exodus 19;17), 'They stood at the base of the mountain.'

And its top reaching the sky — as it says (Deuteronomy 4:11) 'And the mountain was alight with fire unto the heart of the sky.'
In Hebrew the numerical value (Gematriya) of ladder – sulam
סֻלָּם = 130 60+30+40
And so is the Gematriya of the word Sinai
60+10+50+10 130 = סִינַי
About this it says, a ladder stationed on the earth–that is Sinai; and its top reaches the heaven–which represents our soul's life, which is in the highest sphere.
The person is like a tree whose roots are above, and whose trunk extends downward, which is the body, and which is fastened to its supernal roots.
Sinai is also the place where the greatest revelation in the history occurs. It serves as a metaphor for a renewing and reviving tradition.
The midrash states that "what a student will say to his teacher in the future already was revealed to Moses on Mount Sinai".
Meaning – the renewal of the Jewish tradition already is included in its foundation, as part of the revelation.
And now a little bit of Hebrew:
We would like to address now the word sulam – סולם.
SULAM – ladder
In Modern Hebrew the word SULAM is used for ladder
SULAM KHEVRATI – Social Ladder – סולם חברתי
SULAM is also a scale
SULAM RICHTER – The Richter Scale – סולם ריכטר
SULAM MUSIKALI – Musical scale, or a musical key
A modern derivative of SULAM is
HASLAMA – Escalation – הסלמה
However an escalator in Hebrew is MADREGOT NAOT (lit. moving stairs) – מדרגות נעות
The other word we want to addressis is EL – אל,
meaning G-d (also strength).
Therefore the name Jacob gave that place BETH EL means House of G-d – בית אל.
Many Hebrew and now International names have the ending "EL" and some people actually do not realize that this ending has the meaning G-d.
It usually means being close to G-d.
For instance: The name Israel (which Yaakov is given later on in the Torah after his successful fight with G-d's angel) – actually means being able to "cope" with G-d.
A few other examples:
The name Immanuel means G-d is with us – עמנואל
Immanu+el: Immanu = with us, El=G-d
Immanuel – G-d is with us
So, being close to G-d is embedded in names such as:
Michael (pronounced MEEKHAEL in Hebrew),
Gavriel, Joel (Yoel), Assael, Itiel, Malkhiel, etc..
Shabbat Shalom,
Yoel & Orly
Many ask us for a permission to redistribute our newsletters. By all means, please do feel free to forward this newsletter to anyone you wish!
Access the archive of our previous posts at:
Subscribe to our newsletters on our website at the bottom of the home page:
https://www.ulpanor.com/category/blog/