How to Resolve Difficult Conflicts
HOW TO RESOLVE DIFFICULT CONFLICTS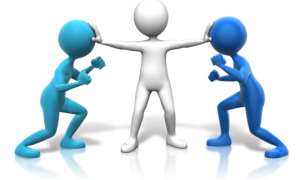 Shalom,
This Shabbat we will be reading the Tora Portion בהעלותך – Be'Haalotkha.
In this Torah portion we are told about the children of Israel having the manna as their food and people complaining in regards with not having meat to eat. (where is the beef?)
וְהָאסַפְסֻף אֲשֶׁר בְּקִרְבּוֹ, הִתְאַוּוּ תַּאֲוָה; וַיָּשֻׁבוּ וַיִּבְכּוּ, גַּם בְּנֵי יִשְׂרָאֵל, וַיֹּאמְרוּ, מִי יַאֲכִלֵנוּ בָּשָׂר
And the mixed multitude that was among them fell a lusting; and the children of Israel also wept on their part, and said: 'Would that we were given flesh to eat! (Numbers 11:4).
G-d then tells Moses to gather 70 elders of Israel…
וַיֹּאמֶר יְהוָה אֶל-מֹשֶׁה, אֶסְפָה-לִּי שִׁבְעִים אִישׁ מִזִּקְנֵי יִשְׂרָאֵל, אֲשֶׁר יָדַעְתָּ, כִּי-הֵם זִקְנֵי הָעָם וְשֹׁטְרָיו; וְלָקַחְתָּ אֹתָם אֶל-אֹהֶל מוֹעֵד, וְהִתְיַצְּבוּ שָׁם עִמָּךְ
And the LORD said unto Moses: 'Gather unto Me seventy men of the elders of Israel, whom thou knowest to be the elders of the people, and officers over them; and bring them unto the tent of meeting, that they may stand there with thee. (Numbers 11:16).
Eventually G-d sent them quail as meat to eat.
There is a story told about a big dispute in one of the cities in Russia in regards with an appointment of a rabbi.
People in the city were fighting for a long time and could not reach an agreement about who should be appointed.
Eventually they turned to Rabbi Soloveitchik of Brisk to seek advice.
He told them:
In the Torah portion "Be'Ha'alotkha" the children of Israel complain about lack of food and Moses is told by G-d to gather seventy elders of Israel.
Rabbi Soloveitchik asked: What is the connection between the complaint of children of Israel about the food to the gathering of seventy elders of Israel?
And he then answered: When the children of Israel started to quarrel about the food and making a living, G-d gave Moses an advice:
Prepare a list of 70 elders to be appointed as rabbis and you will immediately see how the children of Israel will forget their worries about the food and making a living and will start dealing with job appointments…
Hebrew Corner
עצה – ETZAH – Advice
אובד עצות – OVED ETZOT – Helpless, Perplexed
Shabbat Shalom from Jerusalem,
Orly & Yoel
Many ask us for a permission to redistribute our newsletters. By all means, please do feel free to forward this newsletter to anyone you wish!
Access the archive of our previous posts at:
https://www.ulpanor.com/category/blog/
Subscribe to our newsletters on our website at the bottom of the home page: