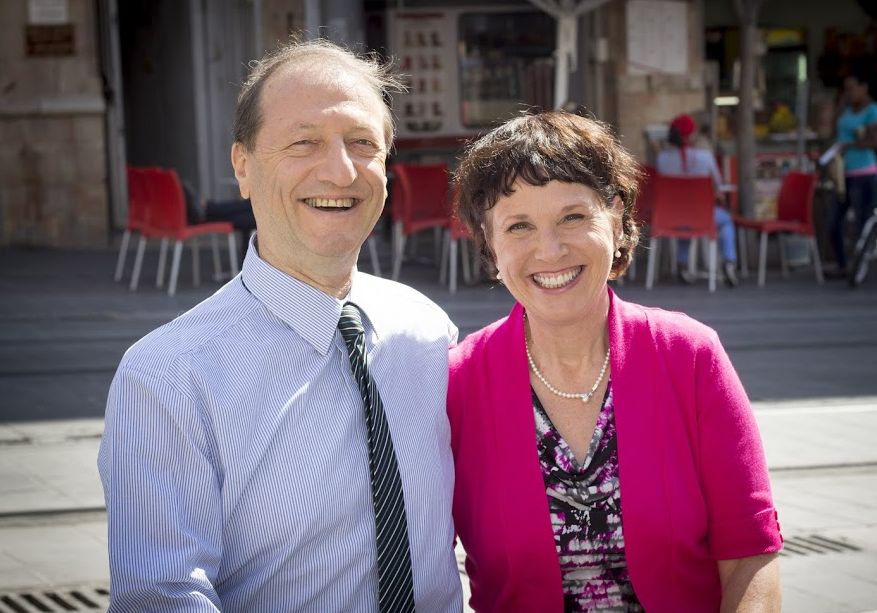 The Three Keys
Shalom,
This Shabbat we will be reading the first Torah portion of the Book of Numbers במדבר – B'midbar (in the desert).
This Torah portion opens with the verse:
וַיְדַבֵּר ה' אֶל מֹשֶׁה בְּמִדְבַּר סִינַי
"God spoke to Moses in the Sinai Desert…" (Numbers 1:1)
The Midrash questions:

Why is it so important for the Torah to specify the location in which God spoke to Moses?
According to the Midrash, our Sages derive from this detail that three key elements were present when the Torah was given:
אש – AISH – fire
מים – MAYIM- water
מדבר – MIDBAR- desert
The Midrash comments:
With three elements was the Torah given – with fire, with water and the desert…
Fire is mentioned in the verse, "All of Mount Sinai was smoking because God descended upon it in fire" (Exodus 19:18).
Water is mentioned in the verse, "The heavens dripped with water" (Judges 5:4), which describes the giving of the Torah.
And we learn about the desert from the phrase "in the Sinai desert" in this week's portion.
What significance to these three elements have, that the Midrash is dwelling upon?
The answer is:
Just as these three elements are given for free to everyone, so too Torah is given for free.
The Sages teach us also that these three elements are the keys indicating how a person needs to act in his life.
Key #1 – Fire – symbolizes enthusiasm in the heart.
Key #2 – Water – symbolizes clarity of thought.
Key #3 – Desert – symbolizes modesty and contentment with "little".
Torah portion B'midbar is read right before the holiday of Shavuot.
And on Shavuot, we do not simply commemorate the original acceptance of Torah thousands of years ago, we actually accept the Torah upon ourselves anew.
In order to prepare ourselves to receive Torah on this day now, the Torah portion B'midbar gives us the Three Keys that will enable us to succeed in understanding the Torah and its contemporary meaning.
Following our very successful launch of our NEW Hebrew Boost™ group courses, which were filled up completely, we have now added additional dates, as well as new levels.
FREE GROUP DEMO SESSIONS
Experience the exciting group dynamics – sign up for a FREE Demo session HERE!
https://forms.monday.com/forms/2b77e7d8a59bdbf1af212d5cf2875507
We invite those who were not able to join us previously, to sign up NOW , enjoying the discounted rate for these interactive online immersion courses.
Select your level and course date and you are all set to go!!
DISCOUNT COUPONS FOR SMALL-GROUP COURSES
Use the discount coupon – NEXTLEVEL20 when checking out.
Note: Coupon is valid only till the end of May, 2020.
Watch below some of the testimonials of our recent students:
https://www.youtube.com/watch?v=A0JcRz3qJDA
See what some of the participants had to say about their experience.
"I enjoyed my Ulpan-Or or class very much. I certainly will sign up for another course…" Candis
"It was excellent, he is an amazing teacher and I would like to do one week more, bewakasha…" Andrea
Hurry up and sign up HERE
https://www.ulpanor.com/product/online-group-course-hebrew-boost/
Indicate the desired course level and select the available date for that level.
Hurry up!
Our special coupon
EXPIRES
on May 31, 2020!
Pick your level and course dates and sign up HERE
https://www.ulpanor.com/product/online-group-course-hebrew-boost/
Note: We plan to resume in-person immersion one-on-one and group programs in our Israeli branches Jerusalem and Tel Aviv, starting mid-June (provided conditions allow it).
Please respond to this email to get more info.
Wishing all of you a peaceful and healthy weekend.
Shabbat Shalom,
Many ask us for permission to redistribute our newsletters regarding Hebrew language learning and Hebrew insights.
By all means, please do feel free to forward this newsletter to anyone you wish!
Access the archive of our previous posts at:
https://www.ulpanor.com/category/blog/
Subscribe to our newsletters on our website at the bottom of the home page: