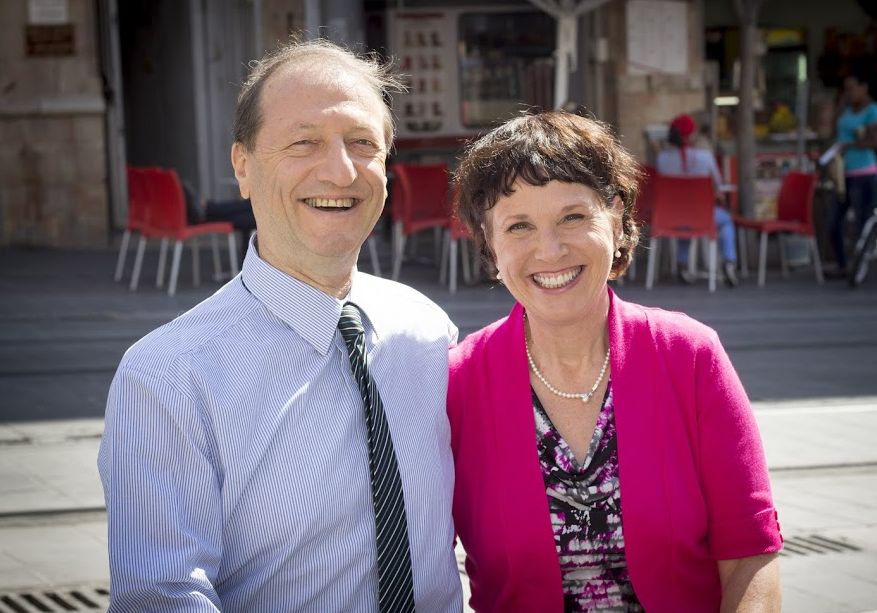 The
"Trial of The Wealthy"

Shalom,
This Shabbat in Israel we will read the portion of Hukat, but since the majority of our readers live outside of Israel, we will refer to the Torah Portion "Korah".
The Midrash says that wealth serves as a means for the Creator to test human beings:
… for there is none whom G-d does not prove.
He tries the rich man to see if his hand will be opened unto the poor, and the poor man He tries in order to see whether he will accept chastisement without repining…
If the rich man withstand his test and practice charity, then he will enjoy his wealth in this world, while the capital will be preserved for him in the Life to Come…
The rich man, however, who grudges to give to the poor, perishes with his wealth from this world…
The tests of poverty and riches are among the more difficult in life, and apparently the trial of the wealthy is more difficult than that of the poor.
Wealth tests its possessor, giving him an opportunity to withstand the temptation to amass more; he has an opportunity through wealth to become closer to the Creator.
The Hebrew metaphor – עשיר כקורח "Rich as Korah" signifies enormous wealth and it is based on Korah's great wealth.
So, did Korah pass the "Trial of The Wealthy"?
Let's first explore how Korah obtained his wealth.
The midrash tells of the illegitimate source of Korah's wealth with disparaging remarks about Korah's wealth and a negative attitude towards the source of his money, which he began amassing back in Egypt:
"Korah was controller in Pharaoh's palace and was in charge of the keys of his treasuries".
It is said of him that he looked out for himself and his family, unlike Moses and Aaron who did not exploit their greatness for their own households, but rather devoted their energy to their mission for the people, at the expense of their own personal needs and interests.
Korah had a mistaken notion that everything he obtained was his, and this led him to think that after leaving Egypt, he could continue amassing wealth as well as power in the desert.
Korah came out vehemently against Moses, arguing that since everyone had received the Torah at Mount Sinai the entire people were therefore holy and worthy of the same degree of proximity to The Creator:
וַיֹּאמְרוּ אֲלֵהֶם רַב-לָכֶם כִּי כָל-הָעֵדָה כֻּלָּם קְדֹשִׁים, וּבְתוֹכָם יְהוָה
"For all the community are holy, all of them, and the Lord is in their midst" (Numbers 16:3).
Hence Moses and Aaron were in no way to be preferred over anyone else.
Given Korah's wealth and intelligence (Korah was also known as being very smart), the Sages wondered what had caused him to make such a move and concluded that Korah was tripped up by his insatiable desire for greatness.
Upon leaving Egypt, Korah continued his chase after wealth in the desert.
But Korah was already incredibly wealthy. As mentioned above, the Hebrew metaphor "Rich as Korah" is based on his enormous wealth.
The question is then whether there was any connection between his wealth and the end he met being swallowed by the earth.
Did Korah become corrupted by his wealth?
Some people do tend to view wealth as corrupting.
Indeed, a negative attitude towards wealth can be found in Scripture, where it is viewed as a source of danger and a spiritual trap.
King Solomon tells us:
"Here is a grave evil I have observed under the sun: riches hoarded by their owner to his misfortune" (Eccles. 5:12)
However, the same King Solomon teaches:
"The ornament of the wise is their wealth" (Prov. 14:24)
"The effect of humility is fear of the Lord, wealth, honor and life" (Prov. 22:4)
Thus we see ambivalence towards wealth.
So, what is the correct stand?
Are riches good or bad?
The scripture tells us that there is nothing intrinsically wrong with wealth that is amassed by a person's efforts, for the source of wealth is with the Creator.
The problem arises in the attitude towards wealth and the way it is utilized.
The question is whether it is an instrument directed by the person to serve a valuable goal.
Wealth is an important motivating force for promoting private objectives through which economic and social objectives are also furthered.
But wealth that does not serve values is destructive.
Those who view their wealth as a means, not as an end, manifest the riches in its positive aspect.
The rebellious act of Korah and the others who joined him is referred as:
מחלוקת קורח ועדתו
The dispute of Korah and his company
Dispute, discourse –

מַחֲלוֹקֶת

– (MAHLOKET) comes from the root חלק – part. It sets people apart from each other.
Pay attention to the sound pattern of the word MAHLOKET
MA… O… ET
Some other useful Hebrew words have the same sound pattern:
Salary –

מַשְׂכּוֹרֶת

–

(MASK

O

RET) comes from the root שכר – reward.

Trap –

מַלְכּוֹדֶת

–

(

MA

LK

O

DET) comes from the
root לכד – capture.

Necklace –

מַחֲרוֹזֶת

–

(

MA

H

R

O

ZET) comes from the
root

חרז

– put beads together (also – rhyme).
You do not have to come to Israel to be immersed in Hebrew!
From Tel Aviv to Timbuktu, you can study Hebrew easily through a personalized method tailored to your individual learning style.
With our remarkable ROI – Rapid Online Immersion Hebrew program, you will receive personal one-on-one coaching, and a language immersion setup, while rapidly advancing your Hebrew significantly within as little as two weeks.
If you happen to come to Israel soon, you will probably spend two weeks in quarantine.
Our ROI program could be a perfect solution for time well invested during these two weeks.
Getting P
repared for Alyah?
Check out our special programs at discounted prices for you to study from home BEFORE you get to Israel!!

FREE GROUP DEMO SESSIONS
Experience the exciting group dynamics – sign up for a FREE Demo session HERE!
https://forms.monday.com/forms/2b77e7d8a59bdbf1af212d5cf2875507
See what some of the participants had to say about their experience.
"I enjoyed my Ulpan-Or or class very much. I certainly will sign up for another course…" Candis
"It was excellent, he is an amazing teacher and I would like to do one week more, bevakasha…" Andrea
Please respond to this email to get more info.
Wishing all of you a peaceful and healthy weekend.
Shabbat Shalom,
Many ask us for permission to redistribute our newsletters regarding Hebrew language learning and Hebrew insights.
By all means, please do feel free to forward this newsletter to anyone you wish!
Access the archive of our previous posts at:
https://www.ulpanor.com/category/blog/