Future vs. Past
Shalom,
This Shabbat we will read the Torah Portion "Va'Yehi", which concludes the book of Genesis.
This Torah portion contains the famous blessing bestowed by Jacob on his grandchildren, which has been used over generations as a blessing of father to his sons.
In many Jewish families this blessing is pronounced on Friday nights at the Kiddush ceremony.
יְשִׂמְךָ אֱלֹהִים כְּאֶפְרַיִם וְכִמְנַשֶּׁה
May G-d make you like Ephraim and Manasseh
(Gen. 48:20)
Jacob's blessing to his grandsons is the only scene of grandfather giving blessing to his grandchildren in the Torah.
And the Torah describes the circumstances under which this blessing was given.

Jacob asks Joseph to bring the two grandchildren near so that he can bless them.
Joseph took them both, Ephraim in his right hand toward Israel's left, and Manasseh in his left hand towards Israel's right, and brought them near him.
But Israel reached out his right hand and put it on Ephraim's head, though he was the younger, and crossing his arms, he put his left hand on Manasseh's head, even though Manasseh was the firstborn.
Joseph was displeased when he saw his father placing his right hand on Ephraim's head.
So he took hold of his father's hand to move it from Ephraim's head to Manasseh's head and said to Jacob,
וַיֹּאמֶר יוֹסֵף אֶל-אָבִיו, לֹא-כֵן אָבִי: כִּי-זֶה הַבְּכֹר, שִׂים יְמִינְךָ עַל-רֹאשׁוֹ
"No, my father, this one is the firstborn; put your right hand on his head."
וַיְמָאֵן אָבִיו, וַיֹּאמֶר יָדַעְתִּי בְנִי יָדַעְתִּי–גַּם-הוּא יִהְיֶה-לְּעָם, וְגַם-הוּא יִגְדָּל; וְאוּלָם, אָחִיו הַקָּטֹן יִגְדַּל מִמֶּנּוּ, וְזַרְעוֹ, יִהְיֶה מְלֹא-הַגּוֹיִם
But his father refused and said, "I know, my son, I know. He too will become a people, and he too will become great.
Nevertheless, his younger brother will be greater than he, and his descendants will become a group of nations."
וַיְבָרְכֵם בַּיּוֹם הַהוּא, לֵאמוֹר, בְּךָ יְבָרֵךְ יִשְׂרָאֵל לֵאמֹר, יְשִׂמְךָ אֱלֹהִים כְּאֶפְרַיִם וְכִמְנַשֶּׁה; וַיָּשֶׂם אֶת-אֶפְרַיִם, לִפְנֵי מְנַשֶּׁה
He blessed them that day, saying:
By thee shall Israel bless, saying: God make thee as Ephraim and as Manasseh.' And he set Ephraim before Manasseh.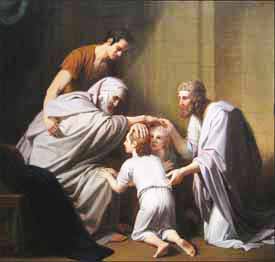 Why did Jacob favour Ephraim over Manasseh?
Jacob knew two things, and it is here that the explanation lies. He knew that the stay of his family in Egypt would not be a short one.
Before leaving Canaan to see Joseph, G-d had appeared to him in a vision:
וַיֹּאמֶר, אָנֹכִי הָאֵל אֱלֹהֵי אָבִיךָ; אַל-תִּירָא מֵרְדָה מִצְרַיְמָה, כִּי-לְגוֹי גָּדוֹל אֲשִׂימְךָ שָׁם
אָנֹכִי, אֵרֵד עִמְּךָ מִצְרַיְמָה, וְאָנֹכִי, אַעַלְךָ גַם-עָלֹה; וְיוֹסֵף, יָשִׁית יָדוֹ עַל-עֵינֶיךָ
Do not be afraid to go down to Egypt, for I will make you into a great nation there. I will go down to Egypt with you, and I will surely bring you back again. And Joseph's own hand will close your eyes. (46: 3-4)
This was the start of the long exile which G-d had told Jacob's father Abraham would be the fate of his children.
The other thing Jacob knew was his grandsons' names, Manasseh and Ephraim.
These have specific meanings in Hebrew, as the Torah describes:
וַיִּקְרָא יוֹסֵף אֶת-שֵׁם הַבְּכוֹר, מְנַשֶּׁה: כִּי-נַשַּׁנִי אֱלֹהִים אֶת-כָּל-עֲמָלִי, וְאֵת כָּל-בֵּית אָבִי
וְאֵת שֵׁם הַשֵּׁנִי, קָרָא אֶפְרָיִם: כִּי-הִפְרַנִי אֱלֹהִים, בְּאֶרֶץ עָנְיִי
Joseph named his firstborn Manasseh, saying, "It is because G-d has made me forget all my trouble and all my father's household."
The second son he named Ephraim, saying, "It is because G-d has made me fruitful in the land of my affliction." (41: 50-52)
In Egypt Joseph had risen to greatness.
In Canaan, he had been the youngest of eleven brothers in a nomadic family of shepherds. Now, in Egypt, he was at the centre of the greatest civilization of the ancient world!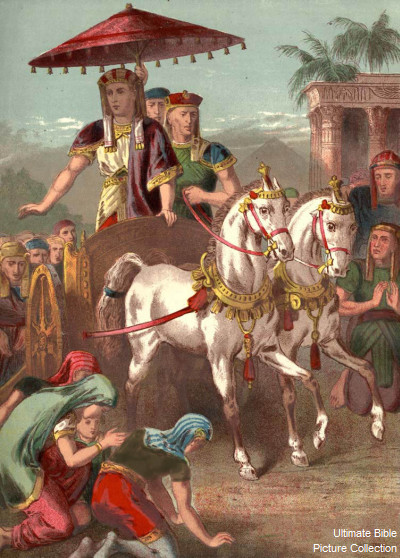 The past was a bitter memory he sought to remove from his mind. Manasseh – מנשה ( The Hebrew root is נשה) means "forgetting."
By the time his second son was born, Joseph undergone a profound change of heart.
He had all the trappings of earthly success – "G-d has made me fruitful" and he called his second son – Ephraim – אפרים
(The Hebrew root is פרי) – means "fruit".
But Egypt had become "the land of my affliction."
Why?
Because it was exile.
Hansen's Law, based on sociological observations states:
"The second generation seeks to remember what the first generation sought to forget."
Joseph went through this transformation very quickly. It was already complete by the time his second son was born.
By calling him אפרים – Ephraim, he was remembering that, when Manasseh was born, he was trying to forget who he was, where he came from, where he belonged.
So, Jacob's blessing of Ephraim over Manasseh had to do with their Hebrew names: אפרים and מנשה.
Jacob knew that these were the first two children of his family to be born in exile.
Knowing too that the exile would be prolonged and at times difficult and dark, Jacob sought to convey a message to all future generations that there would be a constant tension between the desire to forget – to assimilate and the promptings of memory that our real home is somewhere else.
Jacob blessed the "child of forgetting" Manasseh – מנשה
However, the blessings of a child Ephraim – אפרים, who remembers the past and future of which he is a part, should be greater.
(Based on Rabbi Jonathan Sacks' lesson).
And now a little bit of Hebrew:
It is interesting to note that the Hebrew word for 'exile' is:

גולה (GOLAH)
And the Hebrew word for 'redemption' is:
גאולה (GEULAH)
The difference in spelling of these words is the addition of the letter "Aleph" – א to the word גולה
Letter "Aleph" represents the creator אלוף (ALOOF)
If one inserts an aleph into the word גולה (exile), exile is empowered and transformed into גאולה (redemption).
And the name Ephraim אפרים starts with the letter Aleph, possibly alluding to that transformation.
We are happy to announce that we have just uploaded all our five eBooks "Hebrew from Insight Out" to our online store.
These multimedia eBooks present to the reader fascinating insights, parables and commentaries associated with all the 54 weekly Torah portions included in the five books of Moses.
You can access these ebooks at:
https://gx210.infusionsoft.app/app/storeFront/showCategoryPage?categoryId=17
Shabbat Shalom,
Yoel & Orly
Many ask us for a permission to redistribute our newsletters. By all means, please do feel free to forward this newsletter to anyone you wish!
Access the archive of our previous posts at:
https://www.ulpanor.com/category/blog/
Subscribe to our newsletters on our website at the bottom of the home page: