Nameless "Names"

Shalom,
This Shabbat we will start reading the book of Exodus, called in Hebrew שמות, which means "Names".
And the first portion in this book is also called "Names" – שמות.
Speaking of names, we are faced with a puzzling phenomenon in this portion – actually all the important characters in it are not introduced by their names!
Without doubt, he most important character in the Bible is Moses.
One would expect him to be introduced at birth.
And yet, we only hear his name after he is brought into the house of Pharaoh (Ex. 2:10).
He did not receive his name until after he was placed into the river and subsequently picked out by a woman which the Torah does not reveal her name calling her just "the daughter of Pharaoh".
וַיִּגְדַּל הַיֶּלֶד, וַתְּבִאֵהוּ לְבַת-פַּרְעֹה, וַיְהִי-לָהּ, לְבֵן; וַתִּקְרָא שְׁמוֹ, מֹשֶׁה
We do not know which Hebrew name he was given by his parents at birth.
His father is introduced as "a man from the House of Levi" (2:1).
וַיֵּלֶךְ אִישׁ, מִבֵּית לֵוִי
His mother is called: "a daughter of Levi" (2:1)
וַיִּקַּח, אֶת-בַּת-לֵוִי
In the case of his brother, Aaron, he doesn't come on the scene until Moses moves to Midian.
We do not find the name of his sister either.
She is just called "his sister"… (2:4)
וַתֵּתַצַּב אֲחֹתוֹ, מֵרָחֹק, לְדֵעָה, מַה-יֵּעָשֶׂה לוֹ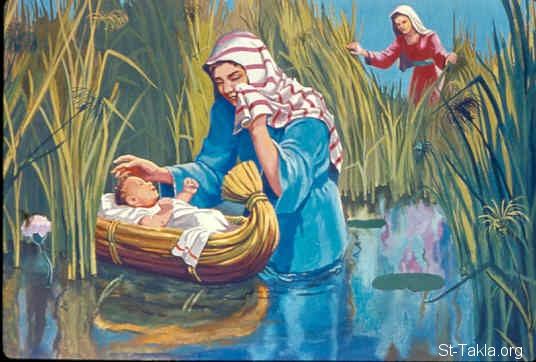 And all this is in the book of "Names"???
Furthermore – the anonymity continues in all those surrounding him.
Moses goes out to "his brothers", where an "Egyptian man" is striking a "Hebrew man" (2:11).
וַיְהִי בַּיָּמִים הָהֵם, וַיִּגְדַּל מֹשֶׁה וַיֵּצֵא אֶל-אֶחָיו, וַיַּרְא, בְּסִבְלֹתָם; וַיַּרְא אִישׁ מִצְרִי, מַכֶּה אִישׁ-עִבְרִי מֵאֶחָיו.
The next day, "two Hebrew men" are brawling, with "the wicked one" striking "his fellow", and Moses soon fears being reported to "Pharaoh" (2:13-15).
וַיֵּצֵא בַּיּוֹם הַשֵּׁנִי, וְהִנֵּה שְׁנֵי-אֲנָשִׁים עִבְרִים נִצִּים; וַיֹּאמֶר, לָרָשָׁע, לָמָּה תַכֶּה, רֵעֶך
He flees to Midian, where the "priest of Midian" has seven "daughters," who clash with the "shepherds" (2:16,17).
Only after many years, all those anonymous faces open before him and get names outside of "nameless" Egypt.
This happens actually in Midian.
The "priest of Midian" gets a name – Reuel (2:18), from the "the daughters" Moses marries Tzipporah (2:21), and bears a son, for whom he immediately offers a name Gershom (2:22).
Then, God instructs Moses to give up this newfound home – this land of Tzipporah, Reuel, and Gershom – and return back to nameless Egypt.
Now in Egypt, he will meet his "brother, who at last is introduced by his name – Aaron" (4:14).
So, why is it that the Torah does not initially reveal the names of all these people?
Even God is described as "Elohim," the generic phrase for any deity.
One way to look at it, is to relate to Names as marks of the journey of the People of Israel.
There is that national narrative, marked by God's distancing himself from his people and then "remembering" his People.
Maybe the Torah is showing us a powerful contrast?
The contrast between the children of Israel when they first came to Egypt on the one hand, and their descendants who bore the yoke of Egyptian slavery on the other.
The book of Exodus does begin with the names of Children of Israel, presented to us tribe by tribe.
The Israelites came in as men of stature; a clan of men who were accustomed to success and status.
They gained high status and power in Egypt.
However, when a new Pharaoh arrives and the children of Israel become slaves, their names disappear…
Their children are murdered, the heroic midwives, who try to save the babies remain unnamed (Puah and Shifra are not their real names but rather descriptions related to their deeds).
Only at the end of the second chapter does God hear His people's groans, and then remember His covenant "with Abraham, with Isaac, and with Jacob" (2:24).
וַיִּשְׁמַע אֱלֹהִים, אֶת-נַאֲקָתָם; וַיִּזְכֹּר אֱלֹהִים אֶת-בְּרִיתוֹ, אֶת-אַבְרָהָם אֶת-יִצְחָק וְאֶת-יַעֲקֹב
Then, God again calls His children by their name (2:25)
וַיַּרְא אֱלֹהִים, אֶת-בְּנֵי יִשְׂרָאֵל; וַיֵּדַע, אֱלֹהִים
And God saw the children of Israel, and God took cognizance of them…
Only at the beginning of the 3-d chapter, when Slavery starts transforming into redemption, God's explicit name – Lord appears for the first time (3:4) in the Book of Exodus:
וַיַּרְא יְהוָה, כִּי סָר לִרְאוֹת
And the LORD saw that he turned aside to see...
We are happy to announce that we have just uploaded all our five eBooks "Hebrew from Insight Out" to our online store.
These multimedia eBooks present to the reader fascinating insights, parables and commentaries associated with all the 54 weekly Torah portions included in the five books of Moses.
You can access these ebooks at:
https://gx210.infusionsoft.app/app/storeFront/showCategoryPage?categoryId=17
Shabbat Shalom,
Yoel & Orly
Many ask us for a permission to redistribute our newsletters. By all means, please do feel free to forward this newsletter to anyone you wish!
Access the archive of our previous posts at:
https://www.ulpanor.com/category/blog/
Subscribe to our newsletters on our website at the bottom of the home page: